Short Course: Corporate Governance Architecture – The Essentials
About the course
Tuning Fork Advisory is an authorised reseller of this course which is delivered by the Corporate Governance Institute.
Become a Smarter and More Effective Leader
Rapidly acquire the skills you need to lead and strengthen your organisation's governance.
Corporate governance in any organisation would be ineffective if it didn't have the appropriate structures and procedures in place. The governance architecture is a foundation stone of good corporate governance. Leaders who understand these structures, who know how a board should actually run, and who should be on the board, are in demand.
Fully understand the necessary elements for effective governance.
Confidently speak about how governance architecture aligns with your strategy and helps with stakeholders.
Be clear about the purpose and function of different board committees.
This course is ideal if you're in a mid to senior-level role, or a Company Secretary who needs to know how to build an effective board architecture.
Course Outlines
Chapter 1
Introduction to governance architecture
What is governance architecture?
Developing governance architecture.
Preparing for success.
Chapter 2
The Board
Roles and responsibilities of the board.
Matters reserved for the board.
Chapter 3
Committees
Introduction to board committees.
Terms of reference for board committees.
Chapter 4
Types of Committees
Audit, finance and remuneration committees.
Nominations, governance and risk committees.
Limited-term task force.
Chapter 5
Executive Team
Understanding the organisation.
Terms of reference for activities of the executive team.
Chapter 6
Board Roles
Role of the chair.
Role of the senior independent director, non-executive director, and executive director.
Other board roles.
Course Details
Give yourself a competitive advantage. This course is designed so you can study at a time and pace that suits you.
Start Date:
Anytime
Duration:
3 months
Study Option:
Fully online, fully flexible
Resources:
Interactive quizzes
Case Studies
Faculty expert videos
Scenario challenge
Audio snippets
Assessment:
Online 60 minute assessment - Multiple choice style.
Frequently Asked Questions
What's the difference?
Choose the right course to achieve your leadership goals.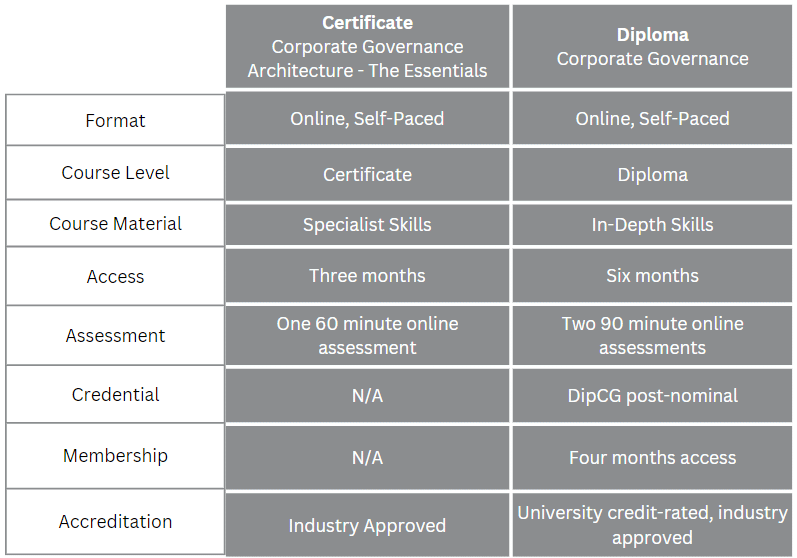 Go to Diploma in Corporate Governance for more info on this in-depth course.
Short Course: Corporate Governance Architecture – The Essentials
€584.10
Take an in-depth look at what's needed to develop the right governance structures for your organisation. Learn the frameworks and modules you need to build an effective board architecture.
Price: €495 (Excl. VAT)