Short Course: Getting your Next Non-Executive Director (NED) Role
About the course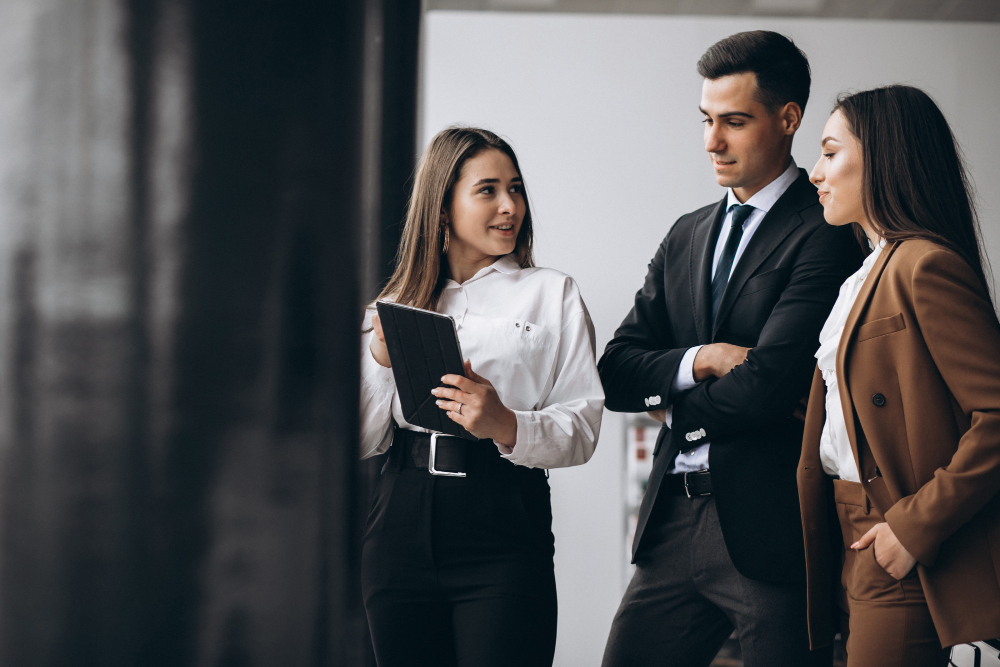 Tuning Fork Advisory is an authorised reseller of this course which is delivered by the Corporate Governance Institute.
Become a Smarter and More Effective Leader
Organisations want to be advised by someone who has an honest mindset, an experienced viewpoint and the ability to challenge the norms. Become a non-executive director  NED) who can be relied on to bring the right qualities to the boardroom.
Explore your motivations for becoming a non-executive director. Discover your strengths and identify any weaknesses you need to address.
* Speak confidently about why you want to become a NED.
* Know how to build a strong personal brand and network.
* Be able to make an impact at your first board meeting.
This course is ideal if you're an aspiring director looking to make a career as a nonexecutive director or if you're a director looking to join another board.
Course Outlines
Chapter 1
Find your purpose
Understand your motivation to become a NED.
Identifying your strengths and weaknesses.
Unique NED profiles.
Chapter 2
Promote yourself
Building your personal brand.
Networking in a virtual world.
Chapter 3
Perform due diligence
Due diligence on the nature of the legal entity.
Due diligence on the organisation.
Due diligence on the organisation's financial performance.
Due diligence on the board and executives.
Chapter 4
Making an informed decision
The interview process.
Accepting your appointment to the board.
Making an impact.
Course Details
Give yourself a competitive advantage. This course is designed so you can study at a time and pace that suits you.
Start Date:
Anytime
Duration:
3 months
Study Option:
Fully online, fully flexible
Resources:
Interactive quizzes
Faculty expert videos (where applicable)
Faculty expert audio snippets (where applicable)
Scenario challenge
Audio snippets
Assessment:
Online 60 minute assessment - Multiple choice style.
Frequently Asked Questions
What's the difference?
Choose the right course to achieve your leadership goals.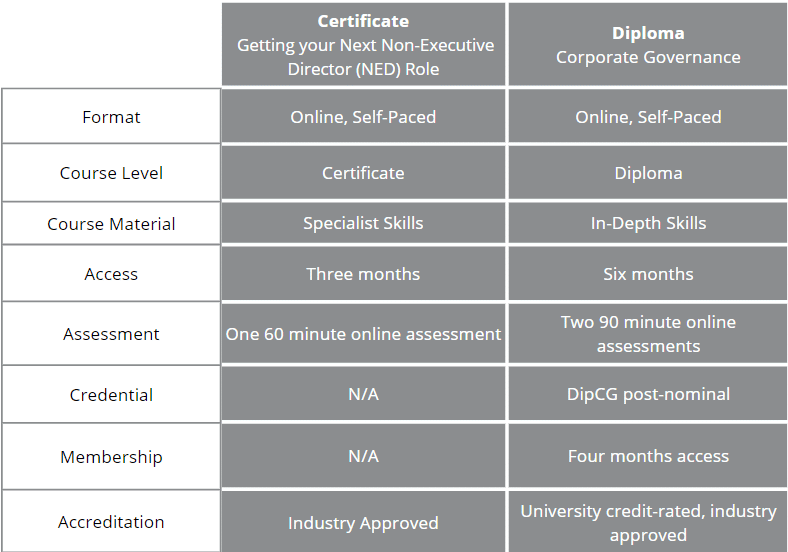 Go to Diploma in Corporate Governance for more info on this in-depth course.
Short Course: Getting your Next Non-Executive Director (NED) Role
€584.10
Clearly understand how to plan your own personal career path to becoming a Non-Executive Director. Accelerate your career by being prepared for this challenging and rewarding role.
Price: €495 (Excl. VAT)