Short Course: The Origins of ESG
About the course
Tuning Fork Advisory is an authorised reseller of this course which is delivered by the Corporate Governance Institute.
Become a Smarter and More Effective Leader
Rapidly acquire the skills you need to master the concepts of sustainability and ESG.
Climate change, biodiversity loss and social inequality are challenges that can't be tackled individually. These are interlinked and must be addressed together. Leaders who understand how ESG has developed into what it is today, and why joined-up thinking is the only way forward, are in demand.
Speak confidently about the evolution of sustainability to ESG.
Develop an understanding of events that have shaped the global perspective of ESG.
Be clear about the characteristics and differences between corporate social responsibility, ESG and impact-led approaches to sustainability.
This course is ideal if you're in a mid to senior-level role and you need to have a comprehensive understanding of how ESG has emerged.
Course Outlines
Chapter 1
A background in sustainability
Key sustainability trends and concepts
A timeline of events
Resources:
Readings.
Web resources.
News Resources.
Case Study.
Chapter 2
Approaches to corporate sustainability over time
Key approaches to corporate sustainability
Case study of a sustainability journey
ESG risks and opportunities
Resources:
Interview with an expert.
Readings.
News resources.
Web resources.
Case Study.
Course Details
Give yourself a competitive advantage. This course is designed so you can study at a time and pace that suits you.
Start Date:
Anytime
Duration:
3 months
Study Option:
Fully online, fully flexible
Assessment:
Online 60 minute assessment - Multiple choice style.
Frequently Asked Questions
What's the difference?
Choose the right course to achieve your leadership goals.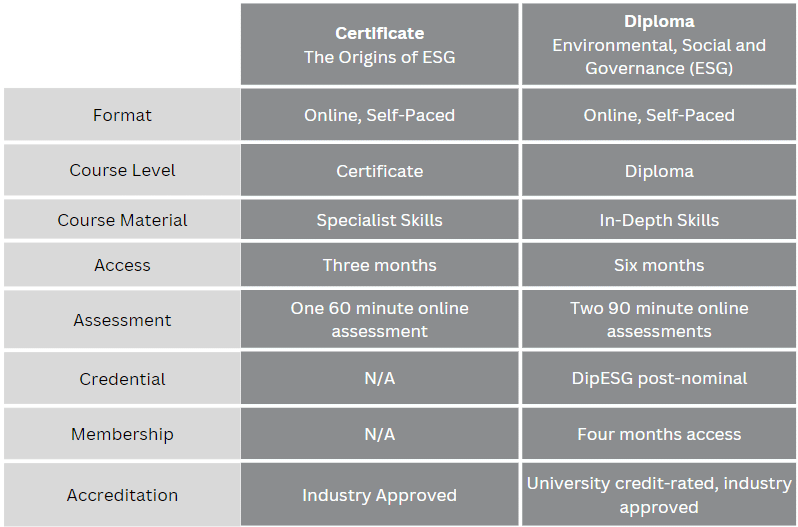 Go to Diploma in Environmental, Social and Governance (ESG) for more info on this in-depth course.
Short Course: The Origins of ESG
€584.10
Deepen your understanding of ESG and how it has changed over time. Learn about the major landmarks in the ESG story and the main factors that have driven change.
Price: €495 (Excl. VAT)